No commentary. Just facts. Will try to update every 15-30 minutes.
20:00:
BP: 94% of votes have been counted equalling 27,623,126 votes.
On constitution:Yes, 61.4%; No, 38.6%
Additional question: Yes, 58.11%; No, 41.89%
19:15:
กกต.สมชัย แถลงยอมรับ ว่าประชาชนออกมาใช้สิทธิ์ออกเสียงลงประชมติครั้งนี้ น้อยกว่า ปี2550 ครั้งนี้คาดว่า จะอยู่ที่ร้อยละ 55 เท่านั้น

— Pui_TRnews (@Pui_TRnews) August 7, 2016
BP: Election Commission's Somchai says turn-out is expected to be around 55% which is lower than 2007. It seems that the progress indicator on the screen on TV (see 18:40 post is just an estimate and not the exact progress).
Still around 61-62% for "yes" with around 91% counted.
18:40: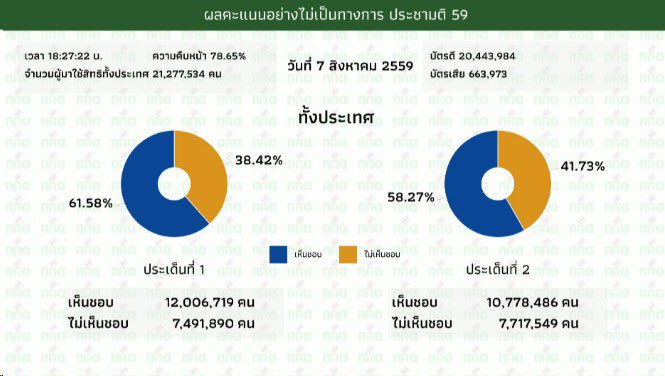 BP: "Yes" is 61.58%; "no" is 38.42% for the Constitution. For the additional question, "yes" is 58.27; "no" is 41.73%.
This chart shows that 21,277,534 votes have been counted and % counted is 78.65% of all votes . If this accurate, then just under 27,000,000 people voted and turn-out is around 53%.
18:05 From the South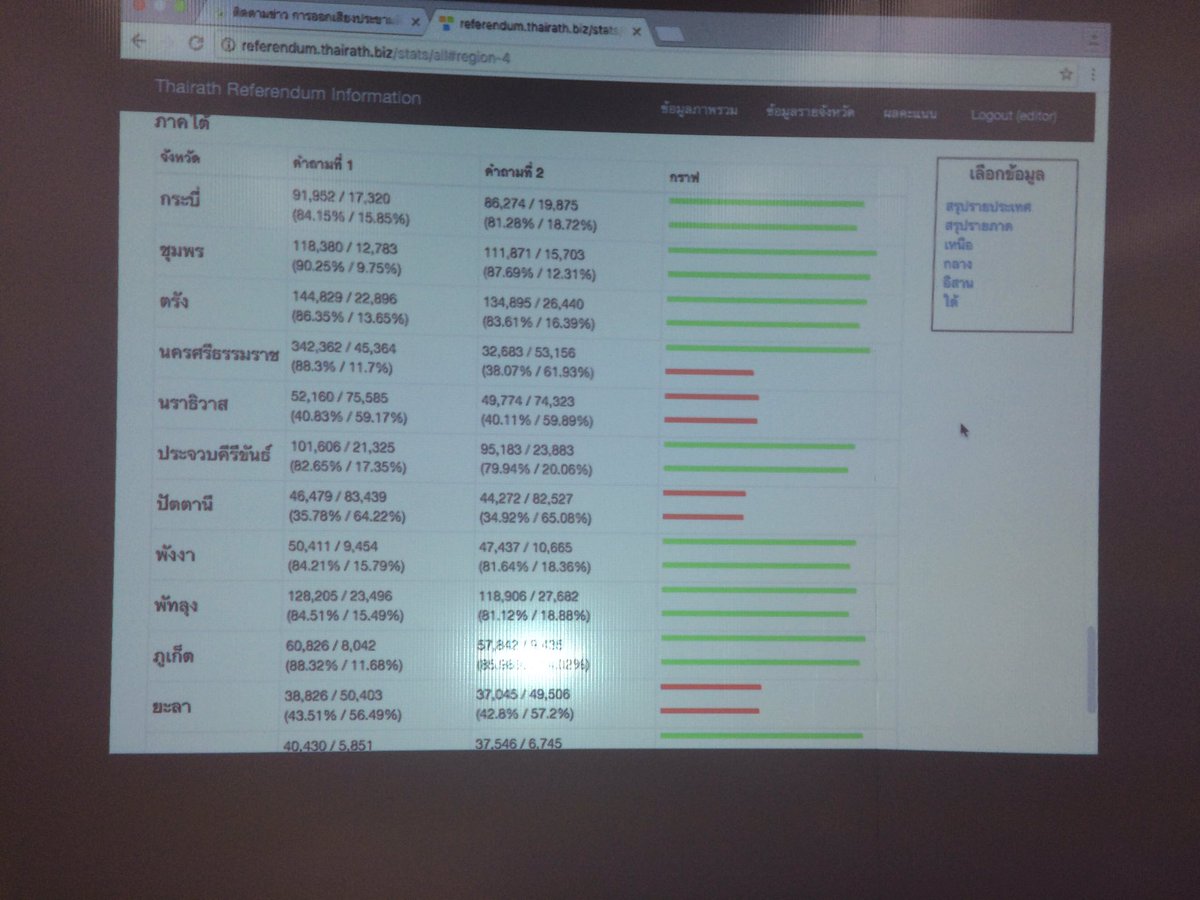 BP: In the Deep South (Pattani, Narathiwat, Yala), "no" is leading for both the constitution and additional question, but "yes" is leading clearly in all other provinces in the South.
18:00 From Thai Rath TV: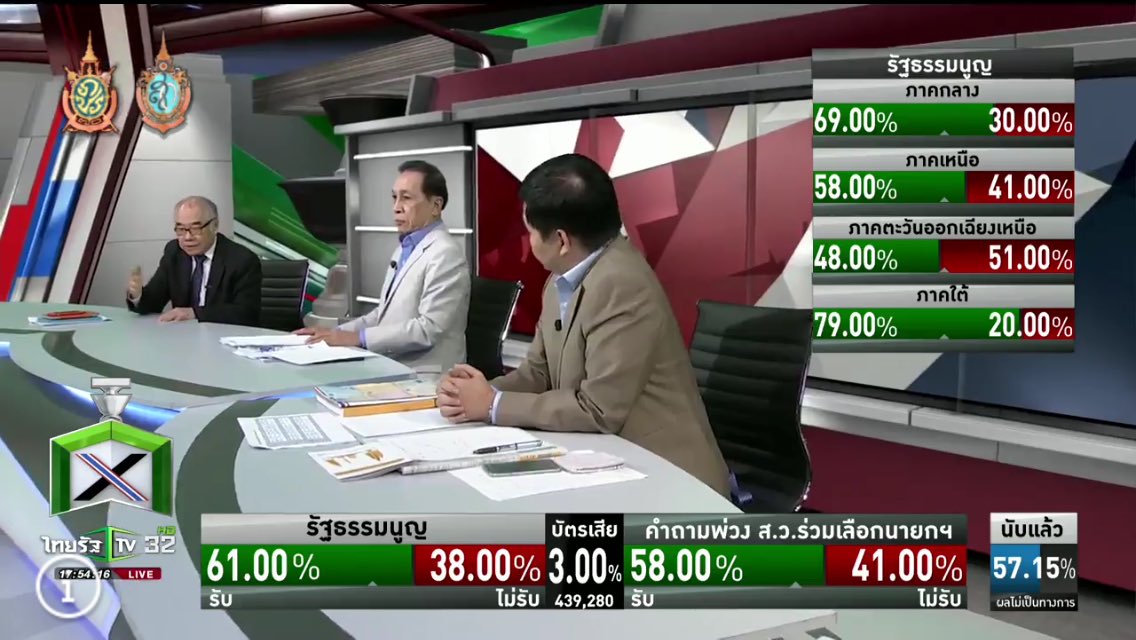 BP: For the entire country for the constitution, "yes" is 61%; "no" is 38%. For Central region, "yes" is 69%; "no" is 30%. For the North, "yes" is 58%; "no" is 41%. For the Northeast, "yes" is 51%; "no" is 48%. For the South, , "yes" is 79%; "no" is 20%.  It says 57.15% of vote counted. No idea which polling units have reported in or what overall turn-out is.
For the additional question, "yes" is 58%; "no" is 41%.
17:55
นับคะแนน #ประชามติ ในกรุงเทพฯ 17.50 น.บัตรดี 896,121 เสีย 14,468 เห็นชอบร่าง 607,647 ไม่ชอบ 268,383 ชอบคำถามพ่วง 566,455 ไม่ชอบ 292,842 #nna

— nna (@tanatpong_nna) August 7, 2016
BP: For Bangkok, at 17:50, for the 1st question/constitution "yes" with 6,07,647; "no" with 268,383; for the additional question "yes" 566,455, "no" 292.842.
17:45
BP: The Northeast shows "no" at 51.46% for the constitution and 55.74% for "no" to the additional question.
17:40
https://twitter.com/ThaiPBS/status/762233672837701632
BP: "Yes" vote with clear lead of 60.68%. Not quite sure where the votes have come from. Green is "yes" and red is "no".
16:40:
อีสานโพล เผย คนอีสานมีแนวโน้มไม่รับร่างรธน. 60.3% -ไม่รับคำถามพ่วง 65.8% – รับไม่ได้หากคสช.จะหยิบรธน.ฉบับใดฉบับหนึ่งมาปรับแก้ไข 64.3%

— FM100.5 News Network (@news1005fm) August 7, 2016
BP: Esan Poll shows 60.3% "no" to constitution; 65.8% "no" to additional question. By contrast, in 2007,  61.7% said "no".
16:30:
Its all pretty close here at a polling booth we are at in Wat Phra Singh in Chiang Mai pic.twitter.com/YvykwsoUEv

— Panu Wongcha-um (@PanuCNA) August 7, 2016
16:20: Below is the breakdown for the Bangkok University Poll by region:
16.13 กรุงเทพโพล ปชช.
รับร่างรธน.57.3%
ไม่รับ 42.7%#SpringNews pic.twitter.com/ta94EILjxP

— Chu_SpringNews (@Chu_SpringNews) August 7, 2016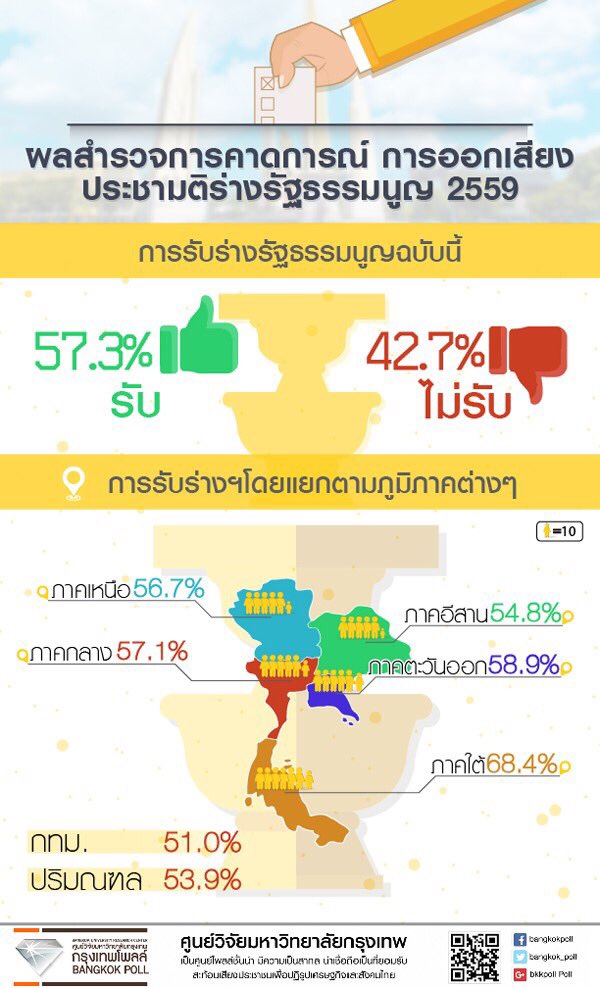 BP: In the North, 56.7%; Central 57.1%; Northeast 54.8%; East 58.9%; South 68.4%; Bangkok 51% and surrounding provinces of Bangkok 53.9%.
16:15: Bangkok University poll says 57.3% for "yes" and 42.7% for "no".
The NIDA (exit ?) poll shows 76.87% will accept. Exit polls were quite different from the actual results in 2007.