Choi Hui-seon, the "intern reporter" who wrote a previous piece apparently relying exclusively on the Anti-English Spectrum Cafe site, has another piece up online basically running through exactly the same format. Hat tip the The Marmot's Hole.
Again, this blog cannot overemphasize the danger presented by white people with heavily pixelated faces.
"Korean women are really easy to get into bed." "I often have one-night stands with Korean women or go whoring."
Recently the website 'korea****.com', embroiled in controversy for sexually derogatory comments about Korean women written by native speaker instructors in language hagwons, has been joined in its mockery of Korean women by other, similar websites.
Every day at the site '***cafe.com', originally created to make it easier for native speaker instructors to obtain useful information, tens of posts go up saying things sexually derogatory of Korean women such as, "Korean women are really easy to get into bed," "I often have one-night stands with Korean women or go whoring," "married Korean women don't have sex lives with their husbands, so they like to have sex with us."
34-year old Mr. C, an English teacher from the UK, wrote on 'xxlove.com', an online community for foreign instructors, that, "I came to Korea for the money and the K-pusxx (a rude slang word for a Korean woman's genitals). Those are the only two reasons to come here," and even publicly posted photos of himself.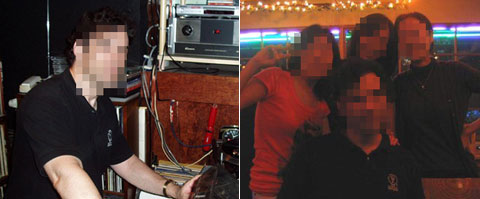 47-year old Mr. S, who until last year taught English conversation at a university in Sojae in Gyeongsangbuk-do, openly wrote on his blog that, "I love to see completely naked Korean women," and was criticized by students. When the problem grew large Mr. S voluntarily left the school. Mr. C, a former US soldier who taught English at a language hagwon in Seoul, invited a female student of his to his home and had sex with her, taking nude pictures of her and publicly uploading them to the internet. He even included a caption with the photos that read, "my co-worker took pictures of racing models and uploaded them, but I uploaded pictures of my student. It was really fun."
He also wrote of a female Korean instructor at the same school that, "she has a cute face, but so far I haven't seen her naked so when I do I'll have more to say." Immediately netizens and police caught Mr. C and at the end of last year he was deported to the United States.
39-year old Lee Eun-ung of the Anti-English Spectrum Cafe, which constantly exposes foreign instructors of low character, said, "the government has rolled out various policies to attract many foreign teachers, but with an insufficient screening system sex criminals and other unqualified with poor academic credentials are having an easy time of it," and emphasized the need for the government to take action.
43-year old native speaker instructor Mr. J, recently caught in Busan, sexually molested a student while teaching in his native Canada, and came to Korea after repeatedly getting in trouble with police for assaults and making threats, he said.
Currently teaching English at an organization in Busan, while he was working in a language hagwon he stabbed a child with a pin during a lesson, and was often absent from work, showing his insincerity regarding lessons.
Mr. Lee said, "when foreign instructors of low character cause hurt, we should demand an investigation by authorities to prevent a cover-up and publicize the case so that there may not be further victims," and asked that victimized women file reports.