Original article. Hat tip to Brian.
Update: Here is the blog of intern reporter Choi Hui-seon, author of this series. Turns out she goes by the English name Jackie.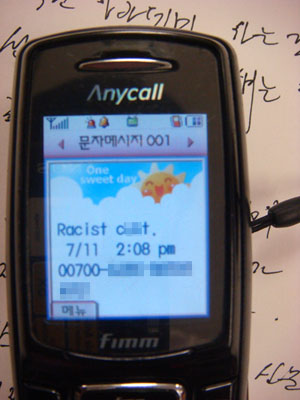 Overflowing criticism has been made by foreign instructors angered by Chosun.com articles which discussed the problems of some unqualified foreign instructors.
Quite a number of foreign instructors, though recognizing the many problems pointed out by the articles, indiscriminately poured out criticism of their creation. Through July 3rd Chosun.com published a series of four articles on problems caused by unqualified foreign instructors.
Immediately after the articles appeared on community websites for foreign instructors a large number of comments were left criticizing them. Some instructors called the articles "racist lies".
Foreign instructor J wrote, "Chosun.com definitely hates foreigners. I wonder if there is a political background to these articles." G, another foreign instructor, said, "I am so angry. We Americans didn't criticize Korea when Cho Seung-hui killed people in America, so why are we all being attacked?"
At one website some claimed the articles were fabrications. A Canadian featured in an article of July 2nd was said to have been "created for a foreigner-attacking article when he does not in fact exist."
Eventually some instructors gained the personal information of the articles' author, and sent sexually insulting and slanderous messages by e-mail and text message.
But there were also foreign instructors who agreed with the articles. C wrote, "everything in the articles is true. When it described instructors who chase after Korean women the articles are completely correct. Please don't be naive."
H, recognizing the problems from instructors of low character, wrote, "these articles show the true rotten state of the foreign instructor community, full of deception and immoral acts. Because of some immoral instructors, all of us are having our names and reputations damaged, so we have to go out and expel them."
At the bottom of the article the Chosun included links to 11 previous articles about "the problems of unqualified foreign instructors". Here's a sampling of the currently 20-odd netizen comments left at the Chosun.
Kim Dong-gyun: It isn't a crime in Korea, it's merely an individual problem of evading regulations regarding qualifications. It's true that many comments are disrespectful of women, but those women's bodies aren't the property of the country or the race, so what do you want? These articles damaged their group image, but white teachers in Korea aren't objects of racial discrimination, they get as much preferential treatmen as ever.
Jeong Gwan-seop: You dumb foreign instructors. Don't you know how to behave yourselves when you go to a different country? How would you feel if Koreans came to your country and did what you are now doing in Korea? Maybe you would start mocking those Ugly Koreans. You are the ones who did these things, why were these articles published?
The Cho Seung-hui case is a totally unique one. Other than Cho Seung-hui, what Korean, I mean who committed such a mass murder? But these stupid foreign teachers and instructors in Korea are real problem children. Cases of foreign instructors doing drugs, having fake degrees, and committing sexual molestation happen every week, and you can see that with how often police catch them, so why shouldn't we talk about it?
Mun Seong-yeon: <<I,m fOcking eather a shit head foreign English lecturer, accordingly I hope such they fOck up from Korea,god damn the white Yankees!….>> Like an X I hope all these shit-for-brains foreign English instructors get out of Korea, fucking white Yankees!
Jo Guk-hyeong: I wonder how many native speaker instructors actually have instructor qualifications and know the education law? Who knows how many of them came here just to make money because they were born in English-speaking areas and can speak English.. They should take English tests just like our Korean tests.. a lot of them couldn't get 50%.. It's a problem of English education in our country that we just plow money into importing them saying that putting butter on our lips is good.