Via several reader requests, I certainly hope this is the final article from "intern reporter" Choi Hui-seon.
A native speaker instructor entered the country and taught English using a diploma forged in Thailand, and is even selling diplomas forged in korea to foreigners who are staying illegally, and the police need to crack down on him. This native speaker instructor is also uploading movies and comments denigrating Korea and Koreans on his blog and Youtube.
31-year old Mr. A, who until last year was teaching English at a university in Cheonan, uploaded comments and videos to Youtube and his blog saying, "I am selling forged diplomas."
Mr. A sells the forged diplomas not only to illegal immigrants here but also to foreigners abroad, who then come to this country, showing the need for government agencies to take action in response.
He proudly wrote, "Korea is a candy land where you can pick up women and money," and "so far 14 illegal immigrants have followed me."
Mr. A explained further, "right now those 14 people are making big money at schools around the ROK, and they are very happy."
He went on, "this is great news for them, who didn't graduate from college. Two of my friends and I gave them degrees. Need a Harvard diploma? Just send me an e-mail. A couple days later you can have a diploma even if you never graduated from high school or only went to elementary school for two years, and you can live forever in Korea."
He also wrote, "I bought a fake degree in Thailand for $40 four years ago… Now I do the same job [selling fake diplomas] so for $60 you can have a degree without having to spend tens of thousands of dollars going to college."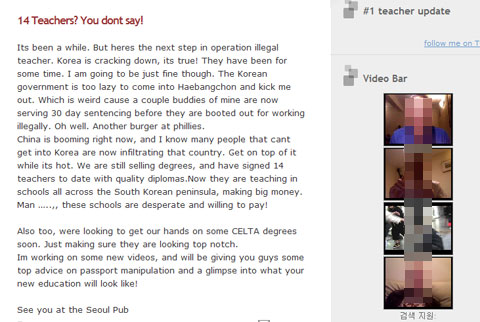 Currently living in Yongsan in Seoul, he recently attended a ball with Korean actors and models.
In fact, from April through September of 2005 Mr. A was under contract with a domestic agency for foreign models after being discovered on the street and appeared as an extra on a popular KBS show.
While working at the university in Cheonan, Mr. A completely ignored his students' questions during lessons, making replies such as, "do you have AIDS? What would you do if got it?" and made movies, which he uploaded to Youtube, in which he took an irresponsible attitude of "I understand, so read and study."
Overseas netizens who saw the situation through the videos he voluntarily uploaded to Youtube wrote, "why can't the Korean government catch someone like this?"
Mr. A placed comments and videos on his blog disparaging Korea. "Koreans live in garbage and speak awful English," he wrote sneeringly, and wrote of his boss at the university in Cheonan that, "this woman looks exactly like a man. Her nose looks like it was eaten by a rat. This woman is human trash," and included photos to accompany the insults.
When comments started piling up saying things such as, "native speaker teachers like this are shameful," and "you piece of trash, get out of Korea," Mr. A wrote in reply, "there are plenty of teachers in Korea like me," and "this place is a playground for us."